Nutrition Lunch and Learn: Healthy Holiday Eating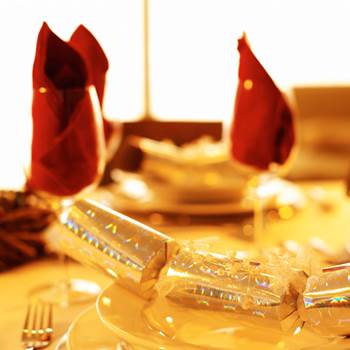 The holiday season and healthy eating might seem like an unlikely pairing, but a recent "Lunch & Learn" nutrition session (at the offices of our client, corporate headquarters of a national retailer) showed employees how they could celebrate the season while still making nourishing food choices.
This was the second event of three in the nutrition series, and there was once again a wait list. Over 40 employees attended the session, many of whom were return attendees from the first event. The enthusiasm for wellness seemed to be contagious: many people brought along a friend or two (or three!). It was obvious that the employees walking through the door were eager to learn: many arrived with pens and open notepads, ready to take down the tips they'd hear.
Upon finding a seat, each employee was greeted with an informational packet summarizing the important tips from the presentation, as well as a festive goodie bag filled with healthy holiday treats (yes, they do exist!)
AbraPappa, founder of Nutritious America, was our energetic speaker. Instead of waiting till the New Year to make resolutions and commit to health, she challenged the attendees to make their health and wellness a priority throughout the holiday season, so that they could step into January feeling like, "I got this!"
Abra identified five common holiday pitfalls for us, and offered practical, memorable strategies for dealing with each one. These tactics ranged from developing a plan before holiday parties and events to thinking holistically about how to manage holiday-related stress: you can't separate stress from issues of health and nutrition! She checked in with the audience after each tip, asking "Is that do-able?"
She also made it personal—giving some examples of her own holiday pitfalls around nutrition, including the challenge of not over-indulging when you have a mom who makes 10-12 different pies for Thanksgiving dinner!
The packets employees received included a sheet called "My Holiday Plan," which we spent a few minutes filling out together—thinking about traditions and responsibilities and how we could handle them in a balanced way. Abra also suggested a new way of thinking about holiday traditions: could we add a health or wellness-based tradition like playing sports or taking a walk as a family after a big meal? An easy change to incorporate, but a significant one!
Employees were also excited to learn that, because they attended the session, they could sign up for a free download of Abra's holiday recipe guide, which would help them recreate some of the treats in their goodie bag at home.
After the presentation, there was a line of employees waiting to ask Abra more questions—a clear sign of how involved the audience was. One woman told her that she had been to a few presentations on nutrition before, but none had engaged her like this one. What better endorsement could you have for the positive impact of the hour?