How Wellness Professionals Use Technology for Health Fairs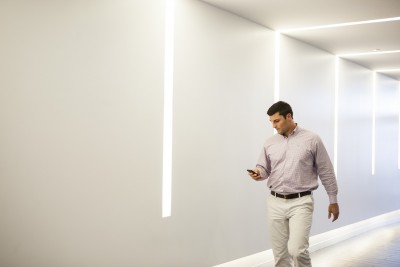 Technology has taken over the universe with its quick and easy ways to improve everyone's lives.  There are so many gadgets that create short cuts, instant and more accurate results and many of these you are able to use on the go. I have started to see more and more wellness vendors come in with their tablets in tow at health fairs.  A key question now being asked a lot more is "do you have access to an outlet and what is the wifi password"
Some Chiropractic groups have a program on their tablets that calculates your posture by answering a few questions such as height, weight, age, and then the doctor takes a simple picture by standing perfectly still against the wall.  This helps the doctor and patient pinpoint where the problem areas are and how to target treatment accurately.  The results are also emailed to you as well so you have them for your records or if you would like a second opinion, if you want to make an appointment with the chiropractor to help fix your problem area you can do that right on the spot as well, saving time when you actually get to the office.
Many of the fitness gyms have been using their tablets to take a person's BMI (Body Mass Index).  This is more efficient than the typical chart or trying to do the entire math problem on paper. By holding the tablet with your arms straight out your results will quickly appear.  Some programs actually base exercise programs that fit your fitness needs at your current weight. Some of the nutritionists bring their tablets along to format different diet plans that are based on a certain amount of calories and foods you prefer. A good thing about these apps is they are easily costumed to you and your preferences, making it more likely to actually use long term.  Sportsetter is a new and upcoming business and wellness vendor we use that you actually type in where you live, what your favorite activities are and they days/times you want to do these activities and it sets you up with matches from your requests. It's like online dating but you are matched with activities you like and not with people. They are working on an app for your phone coming soon!
Simple uses for technology as an employer is the program used to have the employees pre sign up for their flu shot appointments, this is easily printed out the day of the flu clinic and creates an easy flow for the day. Many employers are also requesting from us instead of the standard raffle prize of jump ropes or pedometers to give away the new Fitbit to one lucky winner clearing making a statement that less can sometimes be more.
We thrive to make the wellness fairs as fun and interactive as possible and with newer forms of technology on the rise around us it creates the future of health fairs and employee interaction a good head start in the right direction. I am excited to see what vendors tablet apps that they will be bringing with them to health fairs!